Silverbucket
Silverbucket is a cloud service for resource management which suits all organisations working on projects - regardless of the discipline they operate in. This incredibly user-friendly resourcing tool gives a clear view of your organisation's resource allocations, which contributes to better planning and execution of projects.
The perfect overview of project resourcing
The main resourcing graph provides a versatile view of the actual resourcing position. Different usergroups are able to examine resourcing data from chosen viewpoints and time ranges while understanding the overall organisational position. Recognizing under and overload situations as well as different role requirements brings much needed clarity to project planning. Resource allocations may be visualised and edited in different time modes (month, week, day) and allocation scales (percentages, hours, workdays).
Effortless and fast resource allocating
Allocating a person to a project or making allocation changes must not be a time-consuming operation. With Silverbucket, adding project members is simple and allocations are made with a single mouse click. Forecasts are updated instantly and you are able to immediately see how changes affect a project's financials. Forecasts, key figures and utilisation rates can be followed in real time. One important function is the ability to allocate roles to projects, where the need for project members has been identified, but the people to perform the work have yet to be identified.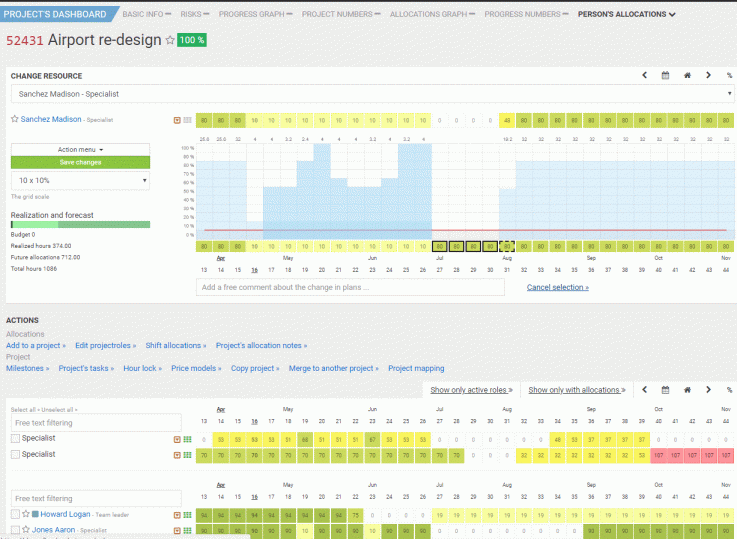 Be in control of project portfolios
Silverbucket allows users to define a project's budget, priority and risk levels (resourcing scope, budget risks and schedule). In addition to single project level monitoring you can follow multiple projects' progress from a portfolio viewpoint; you can add projects to portfolios or categorize them using tags. Silverbucket allows users to filter and follow project data on customer and organization levels.
Filter resource data and create reports to support decision making
Do you require accurate information about utilisation rates, teams' and other usergroups' overall resourcing status, or need timely reports to support your decisions? Silverbucket provides excellent data filters and reporting features, that provide support for resource and project finance management.  Project managers, team leaders and senior management are provided with information on resourcing and how it affects project success. Having up-to-date data enables fast overviews in real time and the ability to react immediately when resourcing anomalies require attention.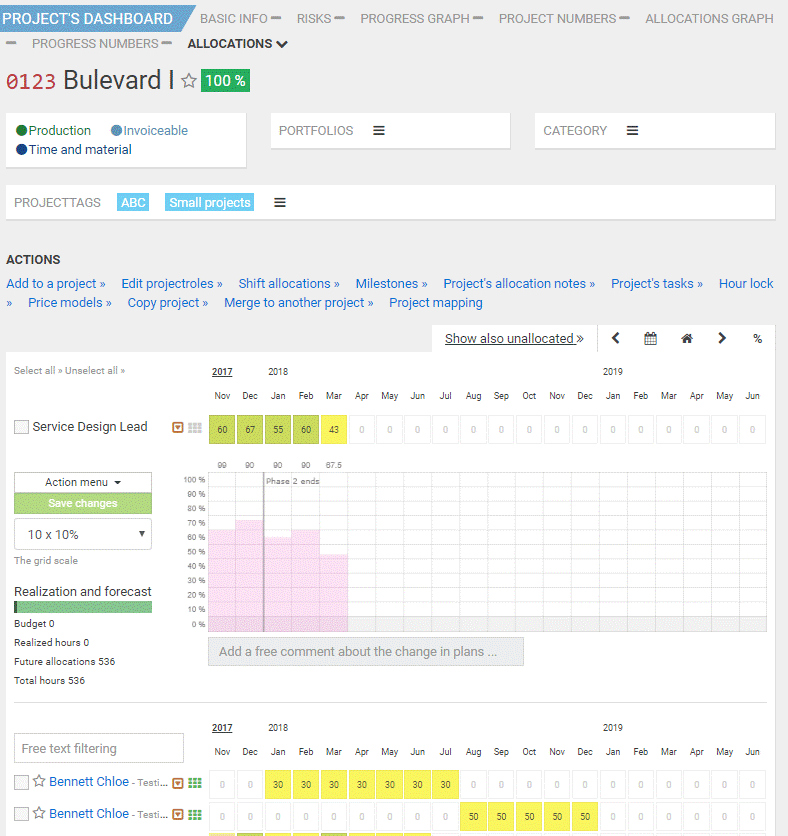 Hour tracking
Silverbucket has an hour tracking feature that supports project resourcing. Hours are added in a simple interface, where users can add their work hours to their projects. Work hours can be made in day or week views. Based on recorded hours it is possible to forecast remaining work amounts and compare realised hours to plans.
Silverbucket in a nutshell
15+ years of experience in the fields of project resource management and software development
Dedicated European development team
A large number of international engineering companies trust in Silverbucket for project resource management
Silverbucket is used in over 40 countries around the world
The solution is perfect for resource management of 50 – 10,000 persons
Customers from multiple industries, including IT, public sector, engineering and consulting companies
Silverbucket White Paper available Here